After years of development, Noah's Heartthe open-world sci-fi MMO from Archosaur and Famous Heart Limited, will officially launch in North America and Europe on July 28, 2022.
Players can download Noah's Heart for free on the Apple App Store, Google Play and PC. Noah's Heart has been localized into English, French, German, Russian, and Portuguese to provide the best gaming experience, so players around the world can join their friends and explore the beautiful planet of Noah!
Download now for free: https://nh-eu.onelink.me/djTI/20e78aa3
Join the Facebook fanpage:

https://www.facebook.com/NoahsHeartEN


Join the Discord community: https://discord.gg/Yv8NwjTAc3
Thanks to the enthusiasm of players during pre-registration, the developers are offering a host of unique and exciting rewards to start the adventure, including diamonds, rare crafting materials, exclusive customization options and the legendary ghost Shirley.
A CREATIVE OPEN WORLD
The basic design of the game Noah's Heart focuses on a large open world and online social interactions. Players have seamless access to an entire planet that they can explore at will, without borders or obstacles. If you pick a direction and keep running, you end up circling the entire planet, traversing a wide variety of terrain including ice fields, deserts, rainforests, and more. It's quite a trip to do on foot, but to make the trip a little easier you can also use a boat, a horse and even a jet pack.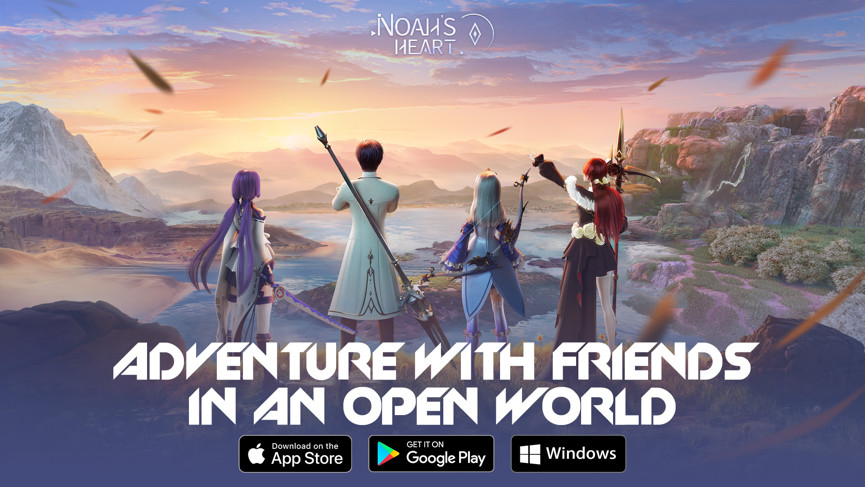 EXCITING FIGHT WITH HISTORICAL CHARACTERS AS GHOSTS
In Noah's Heart, players choose from a selection of weapons at the start of the game, and these replace traditional MMO classes. Weapon loadouts can be changed later in the game, unlocking a huge range of customization options in battle.
.
No warrior can meet all the challenges alone. To help become a more formidable fighting force, players can team up with dozens of Ghosts, ghostly apparitions of historical figures from different parts of the world.
Fight alongside the Phantoms and bond with them to learn more about their unique stories. As the game progresses, the Phantoms gradually come to see you as a trusted partner both in and out of combat.
ENGAGING IN-GAME SOCIAL AND COMMUNITY EXPERIENCE
Noah's Heart builds on the thrilling open-world system of its predecessor, Dragon Raja, while introducing even more exhilarating elements. With challenging dungeons and fully customizable characters, Noah's Heart places a strong emphasis on online social experiences. On Planet Noah, you can take on dungeons with friends, compete against guild mates in guild contests, or just visit your friends' homes to relax. Noah's Heart also has a comprehensive guild system that ensures you never have to go it alone if you don't want to.
Archosaur Games is also committed to creating a welcoming and active community on social networks. The most recent Nova Star draft contest held on Discord received a positive reception, with over 10,000 players participating. The team is really keen on letting players shape Noah's Heart as well. Archosaur previously invited community players to rename in-game monsters, with even more opportunities to have your voice heard in the near future.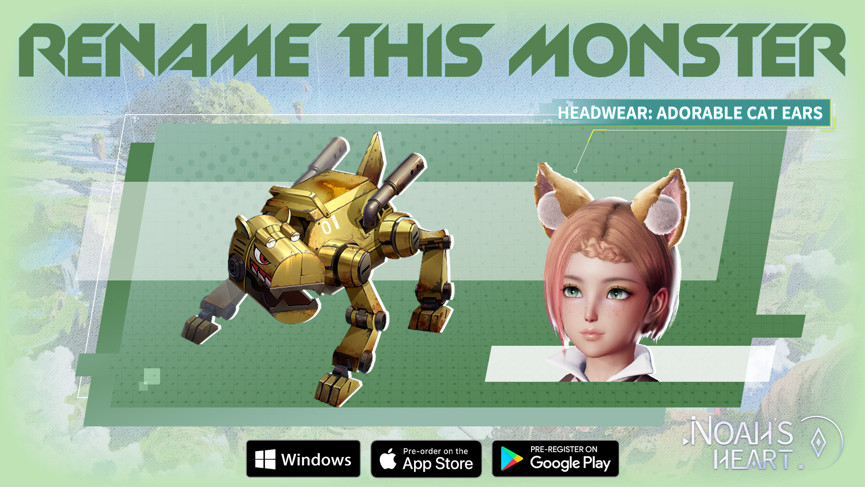 A NEW MMPORG FROM THE DEVELOPERS OF DRAGON RAJA
Developed by Archosaur Games, Noah's Heart is the sequel to the beloved Dragon Raja. The exhilarating new MMORPG offers a splendid world with breathtaking visuals made possible by Unreal Engine 4 that is bound to be an experience players won't soon forget.